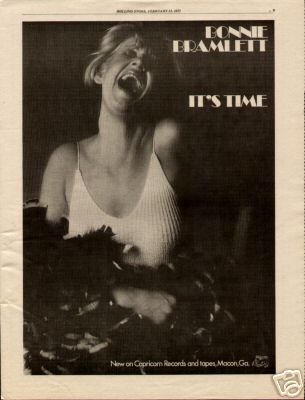 it's time - album reviews
Although
Delaney Bramlett
co-wrote the first track, "Your Kind Of Kindness" along with Bonnie and Jerry Allison, he is nowhere else to be found on It's Time, a project recorded in Macon, Georgia. This is
Bonnie Bramlett
with a little help from her friends,
Gregg Allman
, Butch Trucks,
Chuck Leavell
, saxophone player Randall Bramblett, Big Bill Stewart,
Eddie Hinton
,
Clydie King
, Shirley Matthews and lots of others. This is Bonnie going deep into Cajun soul music with chirping horns and earthy guitars. Ivory Joe Hunter's "Since I Met You Baby" oozes authenticity with Tommy Talton's slide guitar and Chuck Leavall's keys. Even a cover of Jackie Wilson's smash "Higher & Higher" moves away from pop and gets immersed in Southern Rock and blues. And a modern instrument like Tom Ridgeway's ARP Synthesizer does nothing to change that. This is probably the artistic album
Janis Joplin
wanted to make, free from the constraints of a Top 40 mentality. The same year, Stone The Crows'
Maggie Bell
put out Queen Of The Night produced by Jerry Wexler in New York. The similarities - and differences - in these two albums by women whose voices shake the foundations of everything in their path, are worth studying. While Joplin electrified the Kozmic Blues with a touch of psychedelia five years earlier,
Bonnie Bramlett
takes the Gregg and Janice Allman title "Oncoming Traffic and creates a subtle explosion utilizing traditional sounds. From sweet to violent,
Chuck Leavell
on piano,
Gregg Allman
on organ, the result is mesmerizing. That the Allman Brothers enormous popularity, coupled with the success of
Delaney & Bonnie
did not propel It's Time to a more solid place in rock history is a mystery.
Bonnie Bramlett
is so much more than the gal on Roseanne's TV show - and these ten titles speak with an authority that Etta James' legion of fans have come to embrace. It's Time is a treasure ripe to be discovered by a new generation of blues enthusiasts, the title track just a magnificent and powerful work of art. ~ Joe Viglione, All Music Guide